arrow_backBack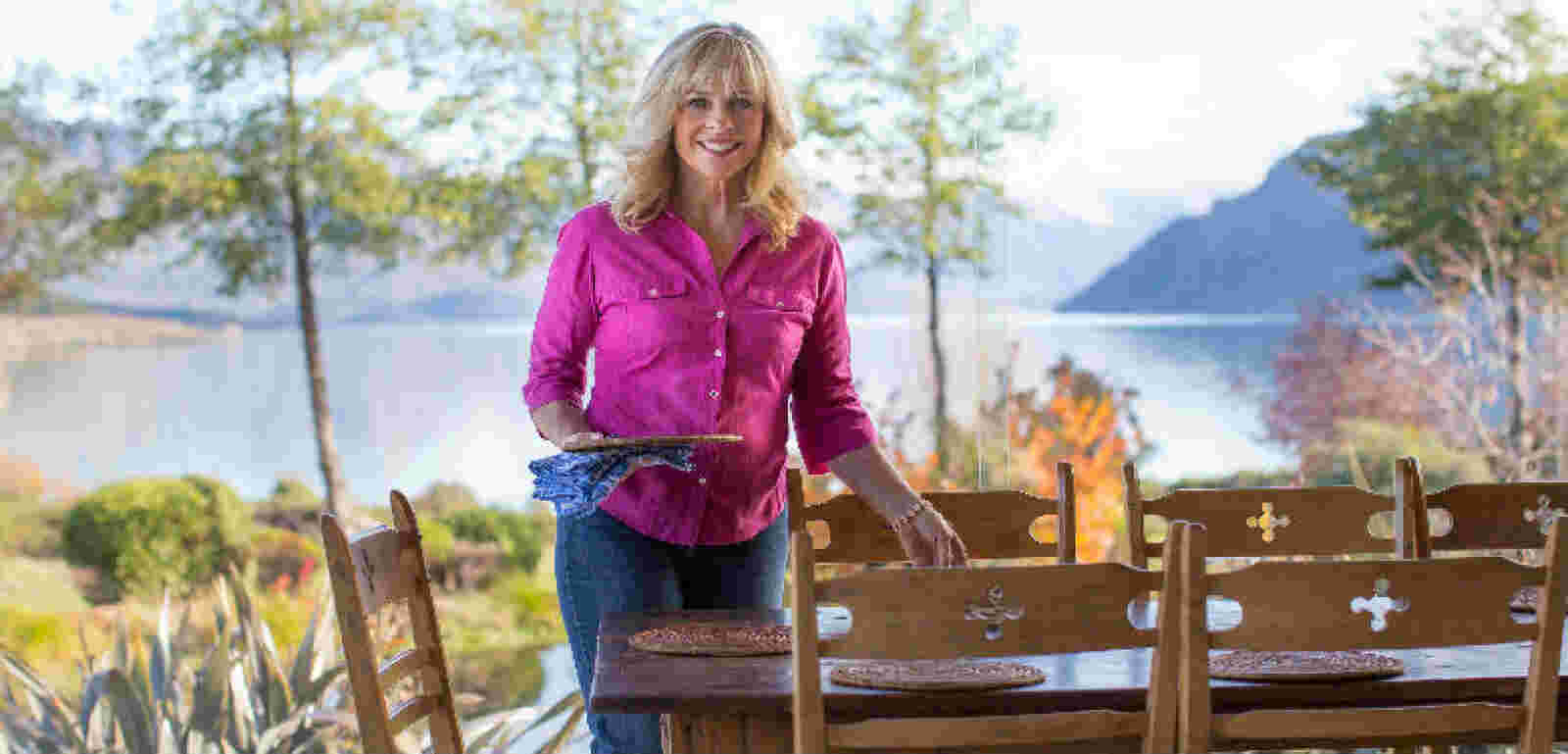 A life less ordinary
General Interest
Annabel Langbein is a beloved daughter of the nation; her locally focused, user‑friendly recipes and loyalty to the food landscape in New Zealand make it impossible not to cherish and celebrate all she offers. It also helps that she is very down‑to‑earth. And while she exudes the type of professional discipline and general sophistication that would suggest she coveted more of a distinguished pedigree in her younger years, Annabel's journey to the top of New Zealand's gastronomic game was anything but conventional – an ode to her true free spirit.
"My mother would say I came out of the womb with a wooden spoon," she laughs of her destiny to work with food. "We moved to a house in Wellington when I was four that had a huge garden where I would spend time making mud pies and concoctions and use all of the buds from my mother's flowers. My recipes were budding even then! Pardon the pun," she quips.
No doubt desperate to save her prized blooms from the brink of extinction, Annabel's mum encouraged her to bring her experimentation into the kitchen. The rest, they say, is history. "Like any child loitering about in the kitchen hopeful for a beater to come their way for a lick, I loved to be in the kitchen, rolling and mixing. When I cooked, especially when I baked, I felt useful and successful. It made others happy which made me happy. It was a fantastic feeling but I never thought I would make a career out of it."
Her divorce from the celebrity status that lay ahead – a sign of her incredible humility – was evident in her decision to "go bush" and live her youth off the beaten track. "I was a bit of a hippie then, an idealist. Out bush I was always cooking. I grew an acre of organic vegetables. But I still didn't think it was something I was going to do." It was her encounter with the great words of Mastering the Art of French Cooking by Julia Child that perhaps first planted the seed. "They were complicated recipes, the recipes went on forever, but I was hooked on making these recipes that had more calories in them than you would have in a week."
She may have been hooked, but Annabel still had a desire to wander the world, so off to South America she went. "I ended up falling really sick and had to spend two weeks recuperating at the New Zealand Embassy until I was strong enough to travel again. I went back to the little seaside village of Buzio, and rented a room with an Argentinian. Cooking was the only way for me to feel healthy and whole again."
This was the beginning of a life‑long chapter of success, one that has benefited from Annabel's own cleverly‑devised strategies and the beauty of serendipity. "I am a great believer in serendipity. On my return to New Zealand, my next door neighbour asked me to cater for a film shoot he was working on. Before I knew it, I had my own business – Hot Spot Location Catering – and I was writing for magazines like the Listener." Needless to say, Annabel's talent was already recognised in the industry but she still felt she lacked direction. "I ended up writing to Julia Child saying I didn't know what to do and she was kind enough to write back. From there, I went to the USA and attended a conference in Seattle where I networked like crazy. I worked in Toronto and Detroit and I taught in NYC.
It was here I really started to think about what New Zealand food is all about and how I could help put it on the map. "I think we are in one of the most exciting places in the world. Our lack of a rich culinary history and the new multicultural culture that now makes up our society is what defines our food. We are a small country with a diverse climate that allows us to produce amazing produce, from raspberries to avocados and more exotic, lush flavours. "Freshness is the beginning, then you have a history of people putting on a backpack and travelling, which means as a country we are very open to food experiences and flavours – Mexican, Greek and Indian. When we come home, we don't want the same old, same old. Add in the fact there are so many hole‑in‑the‑wall ethnic eateries bringing the tastes of these other cultures to our tables, and you have a recipe for an exciting innnovative food culture that draws on the tastes of the world. "At our supermarkets you can buy quinoa, miso, wasabi – we have global flavours at our fingertips. When I teach people about food and cooking, I don't take a purist point of view. I take everyday ingredients and make them more interesting using the global pantry of flavours that we can so easily access." Annabel's food philosophies have resonated far and wide. She has written and published 26 cookbooks and starred in and co‑produced three award‑winning TV series – Annabel Langbein The Free Range Cook.
In February 2016, she won the People's Choice Award for Best Home Chef in a TV Series at the US‑based Taste Awards and in 2017 she was granted an Honorary Doctorate in Commerce from Lincoln University. The best‑selling author's new book Essential Volume Two: Sweet Treats for Every Occasion is out now with something for everyone. It offers recipes to suit all lifestyles, appetites and dietary needs with separate indexes to help identify the many refined sugar‑free, gluten‑free, dairy‑free, vegetarian and vegan recipes.
Share this article via: